Press
___

GILLIAN TRASK: FROM FIERY MELTDOWN TO MILAN
By Beth Logan 
I meet Gillian Trask in her tiny, meticulously organized, home-based studio on Isle of Hope, curious as to how this relative newcomer to the jewelry world will be representing the U.S., Savannah artists, and Kobo Gallery at the prestigious Milano Jewelry Week this October.
Growing up in New York, New Jersey, and Virginia as the daughter of a government contracting business owner, Trask graduated James Madison University with a BFA, and subsequently earned a second BFA, with a concentration in Graphic Design, from the California Institute of the Arts. 
She had minored in Art History and in Jewelry Design at JMU, but ended up following her father's practical advice of pursuing a career in graphic design for the financial stability it offered.
However, a freelance graphic design career proved unsatisfying to Trask's creative soul, and by 2010, she had moved to Florida and was working in retail sales with Jared, the Galleria of Jewelry, eventually becoming store manager. 
Five years later, her father's illness prompted a move to Hilton Head Island to help her mother care for him.
"Honestly," Trask says, "That ended up being the best move." She was able to spend time with family and was with her dad when he died. 
During bereavement leave, her store got held up at gunpoint, and that traumatic event, combined with her dad's death, made her reevaluate her life's direction. She realized, "If I'm going to do something, I want it to be important. Be something I love. And I want to give back."
"Literally, that same week, I met my husband Zack," Trask continues, "And I enrolled at SCAD for jewelry. My goal was to create a recognizable line of jewelry, something that would be uniquely mine, with pieces that I absolutely love." 
She graduated SCAD with a Master of Art in Jewelry degree in 2019, and it was while working on her thesis project, that her goal serendipitously manifested itself…
"I'd been working on this particular piece for three weeks. I was heavily pregnant with my daughter Gabby. It was three in the morning, and I had to show it to my professors at nine, and I melted the whole damn thing! It just collapsed."  
But out of that meltdown, a new technique was born. 
"I had a breakthrough." Trask calls this breakthrough technique, hand sculpting. 
"I want to push the boundaries of what sterling silver can do by melting it down and then riding that fine line between complete destruction and the creation of something empowering and unconventionally beautiful."
The jeweler goes on to explain how silver has a gorgeous rolling motion when it's in a molten state and that she is sculpting and moving the metal with her tweezers while it's liquid. 
Other jewelers use reticulated silver (a technique whereby localized heat is applied to the surface of the metal) but, "I'm pushing and pulling the silver while it's molten. It's all about controlling the heat with air and with different torch tips so I can sculpt it."
It is this incredibly unique technique that led to Trask's acceptance to Milano Jewelry Week. 
"They actually reached out to me. I think they saw that I had received a Top Ten Award from Halstead in 2019." The Halstead Grant National Competition is an annual award for emerging silver jewelry artists, which "put me on the map in the jewelry world. It was an exciting way to start my first year of business!"
More honors followed for Trask's fledgling business. In 2020, she was appointed an Ambassador for the NYC Metal & Smith Show, an intimate and modern jewelry trade event with a curated selection of indie designers.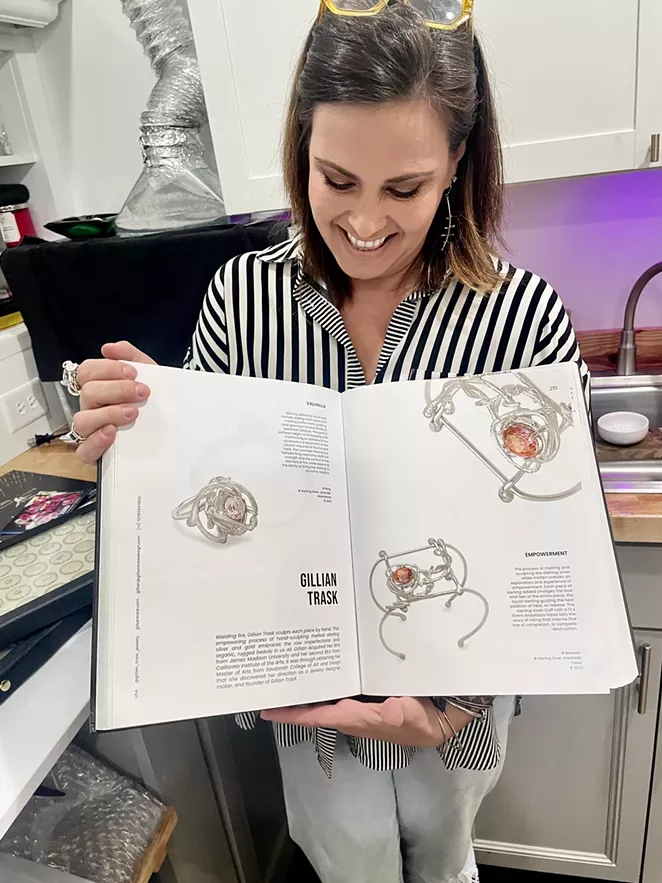 Next she received an Honorable Mention in the 2021 International Design Awards (IDA) when she and her SCAD intern, Ruchita Newrekar, collaborated on a "Star Ring," and in March of this year, she scored a double page spread in the luxury, jewelry, and lifestyle magazine, HUESERS.
In the HUESERS article Trask discussed her business model during the pandemic. She managed online sales and social media, and hosted livestreaming shows on Instagram and Facebook. The livestreamed events proved to be her "saving grace" resulting in higher exposure for her brand and in robust sales during a time when many artists and makers floundered.
Now, Trask is one of 500 exhibitors from 40 different countries selected to participate in October's international Milano Jewelry Week, a highly influential and esteemed event featuring over 200 collective and personal exhibitions, vernissages, exhibitions of international galleries and schools, award nights, cocktail parties, high-end jewelry ateliers, goldsmiths' workshops, academies, art galleries and fashion and design showrooms spread all over the city of Milan.
But back to Trask's ambitions of creating something she loves and of giving back… The award-winning "Star Ring" is now part of a bestselling "Stardust" collection, created with an intention of donating a portion of proceeds to Savannah's Brightside Advocacy CASA program (Court Appointed Special Advocates) ensuring every child in foster care is supported. 
"I was a foster baby," Trask says, "I was lucky to be adopted." 
In fact, she is so enthusiastic about this cause, she participated in this year's "Dancing with the Savannah Stars," raising $18K towards a record-breaking CASA fundraising total of $225K.
Trask also supports CASA through her recent collaboration with Savannah's Love & Moxie line of handcrafted accessories, bags, and trinket trays. 
The resulting "Raise Them Up" collection is a mix of vintage, classic, and edgy. She says, "Think Jackie O meets Joan Jett!" These bold pieces are my personal favorites of her work – particularly the sterling silver asymmetrical earrings that incorporate an acrylic rectangle of neon yellow, and a gold vermeil bar ring that spans three fingers. Definitely sexy. Definitely unique.
 Trask loves to meet her customers at pop-ups and shows; her bubbly and enthusiastic personality lends itself to direct sales. At last year's Plant Riverside's Savannah Christmas Market, she enjoyed record-breaking sales and garnered several commissions. 
She says it is magical to see someone try on her pieces, be transformed, and feel empowered. Ultimately, "I would love to have my own little place. After being able to spend time with people who "got" my work, and after receiving so much love and appreciation, I'm thinking I could thrive in a brick-and-mortar space."
I have no doubt that she will continue to thrive, brick-and-mortar space or not! Between her energy, her social media acumen, her business savvy, her awards, and her groundbreaking technique of metal sculpting, Gillian Trask is on fire.
See Trask's pieces at Kobo Gallery, 33 Barnard Steet, at Rachel Vogel Designs in Tybee Oaks and at GillianTrask.com. Stay current on new work, consignments, and upcoming pop-ups on Instagram @Gillian_Trask_Jewelry
_____________
Gillian Trask Featured in WSAV3
Savannah Christmas Market Returns
by Kalyn Jackson - WSAV3
Excerpt 
"I have been so excited for this because I'm amazed that Gillian Trask has just taken off the way it has, the amount of support from the community has been resounding..."
Karatassos said she is hopping to shine light on a bigger cause as a vendor this year.
"I'm also, hopefully helping to raise awareness about CASA the Court Appointed Special Advocates for foster children."
_________
Gillian Trask Published in Bella Magazine, Bellamag.co
Cross Country Content Creation: The 2021 Caravan Road Trip
By Jennifer Decillis
Caravan Social Club, a unique networking initiative, originally hit the road with its RV "haute wheels" back in 2005 as a contemporary store and experiential studio for events. Claudine DeSola created it to explore new neighborhoods and embrace the opportunity to travel all the way to California while showcasing a range of contemporary brands.
For 2021, Claudine and her business partner Janine Just kicked off Caravan's 10-day tour with a road trip covering the tri-state area's greatest gems, including Brooklyn, Manhattan, and the Hamptons. Their goal: To create a memorable opportunity for content creation, video interviews, and brand discovery. The road trip brought them to a number of unique and photo-fabulous locations, including sunflower fields, roller skating rinks, restaurants, beaches,and rolling countryside, to name a few.
Jennifer Decillis wears Gillian Trask's Star Ring
The inspiration for Caravan is that "collaborative storytelling comes to life when brands connect with content creators for organic integrationthat speaks volumes."
Indeed, the Caravan road trip is a melting pot for creators—musicians, editors, foodies, writers, fashion lovers, home décor experts, actors, and more. Among some of the fabulous brands on display: ibble, LeSportsac, Rag & Co, RejuvAus, Velvet Eyewear, SallyeAnder, Bakerly, Everybody Water, and Gillian Trask Jewelry.
Click here for the full article
_________
Gillian Trask to Show Works at Milano Jewelry Week 2022
Upon being chosen, Gillian said, "This is one of the most exciting events that Gillian Trask has been invited to, and one of the most prestigious. Being invited to Milano Jewelry Week means that Gillian Trask is not only introduced to Milano, but also the world."
Photo by Doug Ordway
_________
Gillian Trask with Kobo Gallery Ends 2020 on a High Note with Substantial Donation to Savannah/Chatham CASA
Written by Joy Dunigan • Photos by David Kaminsky
Kobo Gallery has officially wrapped up its annual holiday fundraising initiative, in which it is extremely proud to announce it has made a donation of over $1,200 to Savannah/Chatham CASA (Court Appointed Special Advocates). Savannah/Chatham CASA recruits and trains volunteers to advocate for the best interests of children who have experienced abuse and neglect.
With this donation, Kobo has truly made a difference and filled in the last bit of funding Savannah/Chatham CASA needed to reach its annual giving goal. That means they can now serve 100% of children in foster care in 2021.
"This donation will allow us to provide critical staff support to more than 160 CASA volunteers that serve over 300 children in foster care in Chatham County," said Kate Blair, Executive Director. "Our volunteers are highly trained, and they work hard to provide stability in a child's life that they might not otherwise have. They stay incredibly involved in their lives and serve as their voice in a system that is highly complicated to make sure decisions are made in their best interests."
"We love that this was a creative fundraising partnership and that it has had such a positive impact. Through our work, we are always trying to better connect children with art organizations and music, so that they may learn to fully enjoy life and express themselves creatively."
All twelve Kobo artist members donated hand-made, one-of-a-kind holiday ornaments that were sold just inside the gallery window on Barnard Street and online at 
kobogallery.com
. From colored-fabric trees by Doris Grieder, felt and ribbon dangles by jeweler Nancy Boyd, to painted wood ornaments by Angela Burson and Daniel E. Smith, the 'CASA tree' as it became known was a hot feature during the shopping season. One-hundred percent of all sales went directly to Savannah/Chatham CASA.
For the past six years, Kobo has selected a non-profit organization to support during the holiday season. Needless to say it has been a year like no other, and when the Gallery went looking for the perfect non-profit partner, Kobo artist Gillian Karatassos with Gillian Trask Jewelry immediately suggested Savannah/Chatham CASA.
"There are many kids out there who need someone to be their voice through the foster care process, and CASA does an amazing job for those who need it most. When Kobo was trying to select a non-profit, CASA was the first organization that came to mind." Karatassos said. "Gillian Trask Jewelry supports and aligns with CASA's cause in empowering others. Typically, when artists are asked to rally to a cause, they put forth a huge, whole-hearted effort to make it a success, and that is exactly what all the artists at Kobo did."
ABOUT SAVANNAH/CHATHAM CASA
Since 1991, Savannah/Chatham CASA prides itself on recruiting, training, screening, and supervising volunteers to provide individualized advocacy for children who have experienced abuse and neglect. 
Savannah/Chatham 
CASA volunteers provide a "voice" for children by collecting and delivering objective information to the judges of the Juvenile Court. Trained CASA volunteers and staff work to understand the needs of the children and ensure that the child's voice is heard and represented in the court system. Moreover, CASA respects the right for a child to remain associated with their families and other familiar relationships in their lives. 
_________
Gillian Trask Picked as Ambassador of NYC Metal & Smith 2020 Show
What is one of your most exciting moments in your career?

For me, the crack of turning on my torch is something I am super grateful for and look forward to each and every morning. Getting recognized for loving what I do? What better way for validation that Gillian Trask is on the right path.

Honestly- I tell people that 'I finally figured out what I want to be when I grow up!' While I hope to never REALLY grow up (I mean, what is creation without child-like wonder?) achieving this Ambassadorship makes me realize that maybe, just maybe, I'm able to give others the feeling of empowerment through my creations.

Want to know something else? Without @halsteadbead, @flourish_thrive @dougordway, @visualsage, Lauren Reynolds, @way2gowendy, @scadjewelrydept, @kristenbairdjewelry, @maya.ashes, @satanickate, @mothtoaflamejewelry, @christophercarpentino, @frogprincepaperie, @nathanscojewelers and of course, @coe_hhi, and all of my friends and family who have supported me though this crazy dream of Gillian Trask, I would never have been able to sit outside on this gorgeous Saturday and write this gratitude. Thank you, @metalandsmith. I'm beyond honored.
_________
 Gillian Trask Placed Top Ten Nationally
Gillian Trask placed in the Top Ten for the Halstead Grant 2019 Annual National competition. She says, 'I am beyond excited to be a part of the Halstead Grant finalist family! This application process itself isn't for the faint of heart, but through its completion I now have a 1,000 foot perspective of my business and all the details in-between. Thank you @halsteadbead for your faith in my business and in me. I can't wait to see what the future brings! Congratulations to all of the finalists and to @emmaelizabethjewelry. I know how much hard work you all put into this, and the recognition is so well-deserved. You guys are rockstars!'
The Halstead Grant started in 2006 and has helped many talented jewelry artists gain a foothold in this challenging field. Past winners agree that receiving the award was a turning point early in their careers when they were wavering on whether or not the jewelry studio was the right place for them. Being singled out by the grant program affirmed their choices and gave them a push to make their business dreams a reality. The Halstead Grant is a special annual award given to jewelry designers and makers who are in their first three years of business.
'It's an exciting way to start my first year of business, for sure!' Gillian says. 'I am so honored to be a part of this special group of talented jewelry designers. I can't wait to see what the future will bring. Hopefully it's more strong empowering pieces.'
Since the 2019 competition, Halstead Bead has extended the application process to the first five years of business for designers.